1.Precision Horizontal Lathe Machine Product Application
CKA series CNC lathes are designed with FANUC, SIEMENS CNC systems . The machines can work in the form of multiple replication cycling. As the general type, these machines can be used for the semi-finishing and finish machining of many kinds of spindles and disc parts. Besides, inside & outside ferrous, conical face, head face, grooving, chamfering, screw thread boring hole, reaming hole and all kinds of curve axially symmetrical.
2.Precision Horizontal Lathe Machine Main features 
1. The machine is designed with horizontal type, good sealing and safety standards. The basic parts like bed and leg of the machine adopts resin sand casting, artificial aging dealing which ensure the good stability
2. The machine works in high precision and longtime service by international highfrequencyquench.
3. Through famous CNC system, the machine has nice function, high precision and reliability.
4. By finite-element analysis, the headstock has developed &reasonable structure and strong pertinence. The supporting spindle use bearing and has the features of fast speed, high rigidity, nice accuracy, steady movement and low noise.
5. By designing with the ergonomics, the operating box can be set in rotating style, which makes it easier to operate for worker.
6. The machine can be lubricated by the centralizing system under scheduled time and quantity.
3.Company Introduction:
We are one of the leading machinery group specializing in producing heavy duty machine tools, it have five factories in China which mainly produce Vertical Lathe, Boring & Milling Machine, Heavy-duty Horizontal Lathe, both conventional and CNC types.
We have a group of professional engineers in charge of technology, manufacturing, installing and testing, so we can guarantee that our machines will put on good performance based on high quality.
4.Export Market:
Our products have been exported to more than 60 countries such as Canada, the U.S.A., Italy, France, Brazil, Bolivia, Chile, Russia, Romania, Saudi Arabia, Syria, Jordan, the U.A.E., Indonesia, Singapore, Thailand, India, Pakistan, South Africa, Egypt, Nigeria, Kenya and so on.
5.Our Belief:
We do believe we can create a win-win situation for both sides as long as we have come to a cooperation consensus. "Together we stand still, Divided we fall" this is what we treat our partners. Clients from all over the world are warmly welcome to build business relations, cooperate and develop together with us. Please feel free to contact us for details.
6. Main Parts: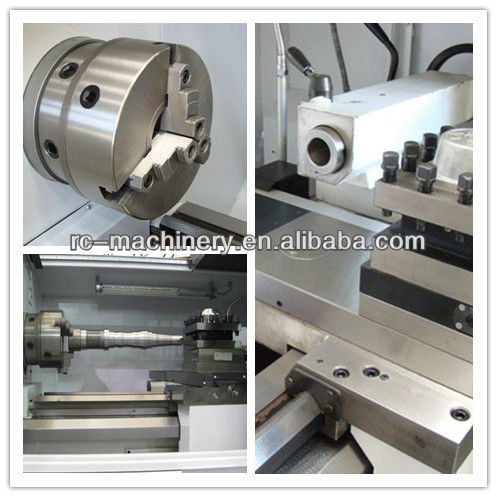 7. After-sales Service and Commitment to Quality:
a. The date of final acceptance of the machine, the vendor of the product free of charge three packs a year (the buyer causes damage will be charged the cost of).
b. Machine fails, the user information of the seller can accurately determine the cause of the malfunction and treatment measures, given immediately reply sent to the scene to deal with such as could not determine the cause, within 48 hours, to solve the failure so far.
Related Products
DRC is a group company ,which is professional in products and sales of advanced CNC machine tools . Acting full operation of the six machine tool production company's overseas sales.
DRC is located in Dalian, which is one of the largest seaport cities of China.Our products exported to Russia, Dubai, Hungary, Italy, Argentina, the Philippines, India, Iran, more than 50 countries.
DRC has six factories in China, which covers many kinds of mechanical equipment.
Product Range:
CNC Lathe
Conventional Lathe,
Vertical Lathe
Machining Center
Wheel Repair CNC Lathe
Planer & Slotting Machines
Machine Accessories
Boring and Milling Machine
Laser Cutting Machine
Dental Milling Machine
Glass Tempering Furnace
Special Machine for Pipe Threading ,Valve Milling, End Facing Machine and so on